Welcome to the very first edition of our brand new series, "On The Ave" where we chat with business owners/community members of our amazing neighbourhood! Whyte Avenue is known throughout the city as a thriving local business and arts hub. We want to introduce you to the people that have poured their life's work into these establishments that are rooted in community and passion. Discover the countless eateries, cafes, boutiques, theatres and more waiting for you just steps from your home here at Southpark on Whyte.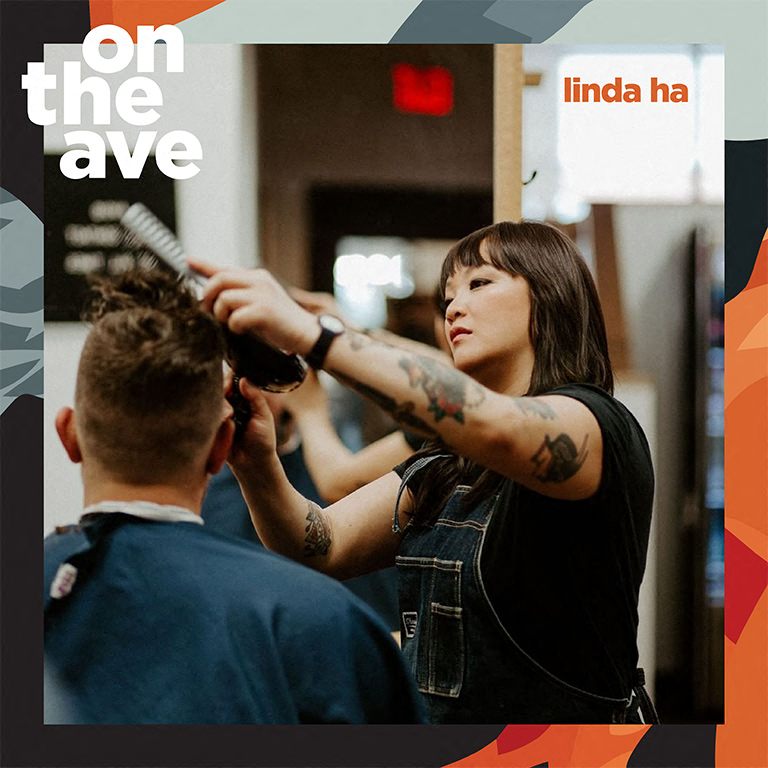 Our first guest is none other than Linda Ha – the owner of the Whyte Ave staple known as Barber Ha. With a personal and modern style, infused with a traditional feel, the shop offers a relaxed and nostalgic environment where Edmonton's finest can enjoy a modern take on the timeless craftsmanship of the barbershop experience.

How did you get started with Barbering? What made you take the leap to open Barber Ha?
I've been in the hair industry for 25 years but realized I had a passion for men's barbering when I went to do my training for work on cruise ships in England. Part of my training module was men's barbering and grooming, including shaves and beard maintenance. While I was in London, I realized how much barbering was its own industry there, and it planted the seed to one day put my sole focus on Barbering in my career. When I came back from working on cruise ships, I realized the need for something similar in Edmonton. With a little encouragement and a push from my life situation at the time being a single parent, I decided to make the jump and open the shop.
When did you open your first location and where?
I first opened in June 2011 in King Edward Park. I had found a 500 sq ft. space that fit just three chairs. It seemed perfect at the time, but we quickly had to move due to lack of space.

What was a big challenge that stood out in your business in the first few years?
Funny enough, being a woman! The concept of a modern Barbershop seemed crazy to a lot of people at the time (even though it was just ten years ago), and there were a lot of push-backs when it came to seeking advice or just trying to find courses and learn more about Barbering. A lot of old school Barbers did not feel it was a woman's place to get into Barbering which I was surprised by, but that quickly changed for the better. Also, it was hard to convince clients to change up their hairstyle into a classic short back and sides, and I had to fight a lot of faux hawks back then, which are now making a comeback.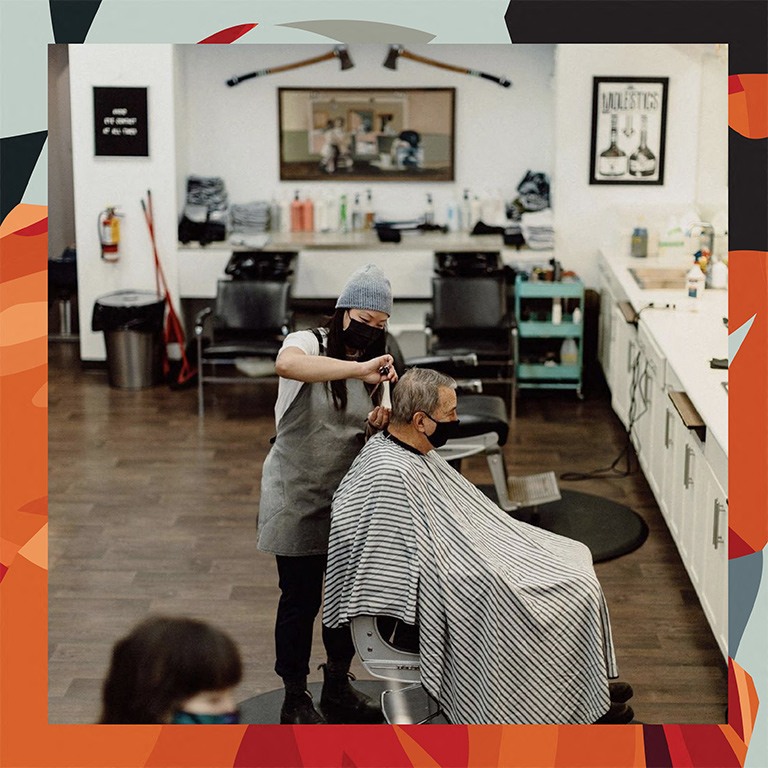 Why did you choose Whyte Ave as the home of Barber Ha, and how long have you been here?
My friend who owns the Beauty Parlour across the hall had approached me about the space we are in now even before I opened in King Edward Park. At the time, I was only planning on working by myself or with one other person, and the space seemed too big for me. After a year in King Edward Park, we had outgrown our space. Luckily, the bigger space was still available.

What can someone expect from your Barber Ha Experience? What keeps your clients coming back?
Personally, I have always felt that if I get to know my client on a genuine level and can find a connection with them, as a Barber, I can do a better job in bringing out the best in my client. Our goal is to always build genuine relationships with our clients. Sometimes it's instant, and sometimes it takes a few visits, but we always try our best to connect. We try to have real conversations and get to know you. We also have an open Barber policy, meaning you can go to whoever you want and try every Barber in the shop and you will not get the look of death for "cheating" on your Barber haha. That is to ensure you can always get in and find the right fit for you. Once you find your Barber, it's ok to stick with them, but no one will ever get upset if you book with someone else in the shop – we get it!

Congratulations on starting a new community program this year! Could you tell us more about it?
Community has always been a big part of our culture. It's because of our local community that we have been able to grow and thrive, so we always try to support other businesses whenever we can. With our New Legion Program, in short, it's a local deal card. You get perks and discounts at Barber Ha but also other local YEG businesses. We know our clients are YEG local enthusiasts so we wanted to be able to help spread the word for other businesses too.
Since your time in the neighbourhood, what have you learned about the community? And what do you love about being on Whyte Ave?
The overall support in the community is amazing. Everyone is always quick to help one another and rally behind each other. Whyte Ave is great because there is so much to do within walking distance. The proximity to Ritchie is great too, so you can go get a haircut, grab some ice cream or a beer down the street, a quick bite, do some shopping – it is a one-stop-shop and full afternoon affair if you want it to be.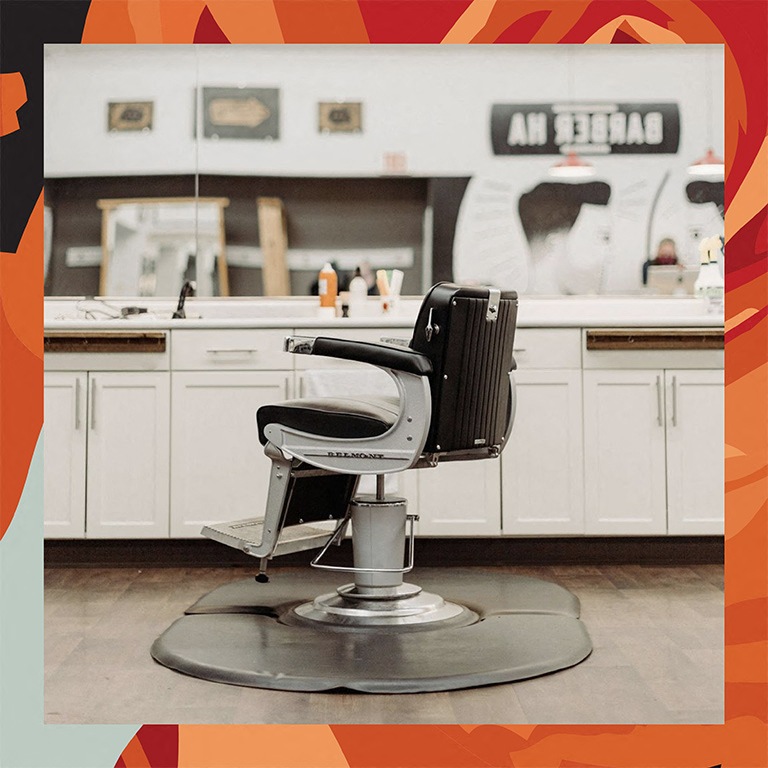 What's new and upcoming at Barber Ha?
We are currently looking for a couple of new locations in the upcoming year or so. I'm trying to manifest a stand-alone building with 2-3 levels so we can have a rooftop patio for drinks and coffee while you wait. That's in my dreams right now, but maybe someone reading this might know of something? Just putting it out there! We are still training new barbers and look forward to things getting back to a new normal – I hesitate to say pre-covid normal, but I know some exciting things are ahead.

What are you excited about for the future of Whyte Avenue and Old Strathcona?
Just constant growth and community involvement. I know there are a lot of people that are passionate about making Edmonton a great place to live, and I look forward to all the new ventures that will be popping up as the world gets back to a new normal as mentioned above.

If you had to pick one, what would be your favourite spot on Whyte to grab a bite?
That's a hard one but the first place I thought of was MEAT. I can't help it, I will always choose that place. It's close, delicious, great drinks and I always crave their Bourbon Banana Pudding, like I crave that all the time.

Discover More About Barber Ha
10011 82 Ave NW, Edmonton, AB T6E 1Z2