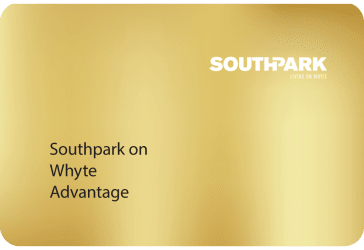 Southpark on Whyte Advantage
Enjoy exclusive deals with the Southpark Resident Advantage Program!
Whyte Avenue is right outside your door is alive with culture and creativity. To help you get acquainted with the community's amazing businesses, use your Southpark on Whyte Advantage card* at participating shops, restaurants, cafes, bars, and more, and enjoy exclusive deals.
View all current offers below.
*One loyalty card per resident. Offers are subject to change based on the discretion of the business. Southpark on Whyte will not be held accountable for businesses failing to honour the offer. Please present this card, in its original form, when visiting participating businesses.
VIP Advantage
Below are the partnerships we have created for you as a resident to take advantage of and enjoy!
page-specific custom CSS here
Present your Southpark on Whyte Advantage Card to obtain discounts.
Please contact Community Manager for more details.
Resident Events Program
Living at Southpark on Whyte opens you to more experiences and opportunities than ever thought possible. With this in mind, we have curated a dynamic Resident Events Program built around three core pillars: Life Skills, Health & Wellness and Social.
Participate in events such as Cocktail Mixology, Professional Instructed Fitness Classes, Movie Nights, community barbecues and many more!
Our Resident Events Program calendar is specially designed to engage you with your community. From wine tastings to yoga classes, we want to help you find your people. We are very excited to share such programming experiences as:
Meet new friends at our next wine and cheese tasting
Learn how to make the perfect cocktail with our Mixologist
Get ready for community s'mores on the patio
Take a Yoga class from our master Yin instructor
Master your prefect dish in our Demonstration Kitchen
Plus many more events to indulge in!